Hva er Wild Apricot?
Focus on growing your membership instead of repetitive admin tasks with WildApricot. Our easy-to-use software helps you automate membership dues, event registrations, and more. You'll also have access to a community of peers and experts to share knowledge and best practices.
Hvem benytter Wild Apricot?
WildApricot is an affordable cloud-based software for small associations, non-profits, state and local chapter organizations. Manage membership, website, events and more all in one place.
Hvor kan Wild Apricot benyttes?
Skybasert
Lokalt
---
Om leverandøren
Personify
Sted: Vienna, USA
Grunnlagt i 1998
Om leverandøren
Personify
Sted: Vienna, USA
Grunnlagt i 1998
Videoer og bilder av Wild Apricot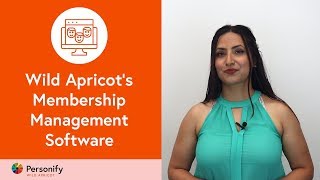 Sammenlign Wild Apricot med lignende produkter
Funksjoner i Wild Apricot
Adgangskontroller/-tillatelser
Applikasjonsstyring
Arrangementsplanlegging
Arrangementsstyring
Betalingsbehandling
Bidragssporing
Deltakelsessporing
Deltakerstyring
Dokumentledelse
Donasjonshåndtering
Donorledelse
E-postmarkedsføring
For alumniforeninger
For frivillige organisasjoner
For religiøse organisasjoner
Fornyelser av medlemskap
Komitéstyring
Kontaktadministrasjon
Kontaktdatabaser
Kontingentadministrasjon
Kvitteringsadministrasjon
Medlemsdatabase
Medlemskapsledelse
Medlemskommunikasjon
Medlemsportal
Medlemsregister
Medlemstyper
Nettgivning
Nettkalender
Nettregistrering
Nettstedsadministrasjon
Rapportering og statistikk
Rapportering/analyse
Registreringsledelse
Regnskapsintegrasjon
Selvbetjeningsportal
Tilpassede maler
Varsler/meldinger
Veldedighetsstyring
Alternativer for Wild Apricot
Anmeldelser av Wild Apricot