Hva er PayPro Workforce Management?
Whether your organization has 100 employees or 1000, our team has one goal - make your life easier. Our cloud-based platform gives you real time visibility into every aspect of your workforce with direct access to our in-house support and subject matter experts. We summarize our commitment as big & smart enough to do the work well & small enough to understand your business personally. Our 28 years experience includes industry-leading client retention thanks to our high-quality service.
Hvem benytter PayPro Workforce Management?
Organizations looking for an expert support partner, not just a typical software company call center. Our 100% cloud-based platform scales from SMB (100+ Employees) to Enterprise.
Hvor kan PayPro Workforce Management benyttes?
Skybasert
Lokalt
---
Om leverandøren
Paypro Workforce Management
Grunnlagt i 1992
Support for PayPro Workforce Management
Om leverandøren
Paypro Workforce Management
Grunnlagt i 1992
Support for PayPro Workforce Management
Videoer og bilder av PayPro Workforce Management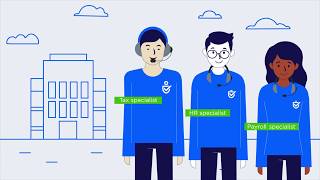 Sammenlign PayPro Workforce Management med lignende produkter
Funksjoner i PayPro Workforce Management
360-graders tilbakemeldinger
ACA-rapportering
Aktivitetssporing
Ansattanerkjennelse
Ansattdatabase
Ansattplanlegging
Ansattprofiler
Arbeidsprognoser
Automatisert planlegging
Benchmarking
Beregning av overtid
Budsjettering/prognoser
COBRA-administrasjon
CV-lagring
CV-parsing
Dashbord
Direkte innskudd
E-postadministrasjon
E-verifiserings-/I-9-skjemaer
Egenvurdering
Elektroniske skjemaer
Fakturerbare og ikke-fakturerbare timer
Fakturering og regningsskriving
Ferdighetssporing
Ferdighetsvurdering
Ferie-/permisjonsporing
Fordelsdashboard
Fradragsledelse
Fraværssporing
Fritidsstyring
Godkjenningsarbeidsflyt
HIPAA-kompatibel
HR-målingsbibliotek
Handlingstyring
Helseforsikringsadministrasjon
Hullkort
Hullkort på nett
Håndtering av ytelsesgjennomgang
Individuelle utviklingsplaner
Intervjuplanlegging
Kalenderbehandling
Kandidatprofiler
Kandidatsporing
Karriereside
Kollegavurdering
Kompensasjonsstyring
Leverandørstyring
Livsforsikringsadministrasjon
Lønnsadministrasjon
Lønnsrapportering
Mentorskap
Mobilapp
Mobiltilgang
Målinnstilling/sporing
Nettidsklokke
Nettidsporing
Omsetningssporing
Onboarding
Opplæring av ansatte
Opplæringsledelse
Pensjonsplanbehandling
Personaladministrasjon
Personalhåndbok
Personalytelsesadministrasjon
Prosjektsporing
Pulsundersøkelser
Pågående ytelsessporing
Påmelding til nettfordeler
Rapportering/analyse
Rekrutteringsledelse
Resultatstyring
Samsvarsporing
Se gjennom syklussporing
Selvbetjeningsportal
Sjekkutskrift
Skatteoverholdelse
Spørsmålsbibliotek
Stillingsannonse
Styring av arbeidsflyt
Styring av orienteringsarbeidsflyt
Suksesjonsplanlegging
Søkersporing
Talentledelse
Tid og nærvær
Tidssporing
Timelistehåndtering
Tredjepartsintegrasjoner
Trendanalyse
Uføretrygdforvaltning
Utgiftssporing
W-2-forberedelse
Ytelsesstatistikk
Alternativer for PayPro Workforce Management
Anmeldelser av PayPro Workforce Management
Verifisert anmelder
CEO i USA
Verifisert LinkedIn-bruker
Markedsføring og reklame, 2-10 ansatte
Brukte programvaren til: Mer enn 2 år
Obious choice for businesses in need of a reliable payroll, compliance and workforce mgmt solution
Kommentarer: We use Paypro to manage our HR admin duties around payroll and compliance.
Fordeler:
Paypro takes a typically frustrating part of running a business and makes the entire process easy - anytime I've needed anything, their team was right there to help us along.
Ulemper:
Nothing I can think of. Paypro keeps us compliant, up-to-date and we have not had any issues to date.
Greg
Chief Administrative Officer i USA
Veldedige organisasjoner, 201-500 ansatte
Brukte programvaren til: Mer enn 2 år
Vurderte alternativer:
Excellent HR and Payroll Management System
Kommentarer: We run our 250-person non-profit HR, time and attendance, and payroll functions on this system. We're basically very happy with it. The implementation staff were excellent!
Fordeler:
Paypro's system has a very extensive feature set, so it seems to be able to accommodate just about anything one could want to implement in terms of payroll, time and attendance, or HR. I love the reporting, which makes it easy for an Excel user to create custom reports. The customer service staff is generally knowledgeable and helpful, and usually quick to respond.
Ulemper:
Due to the extensive feature set, there is a pretty heavy learning curve to understand and use all of the features. That's to be expected with a system of this complexity.
Personlige tjenester og familietjenester, 201-500 ansatte
Brukte programvaren til: Mer enn 2 år
overview
Kommentarer: so far it has been very good. there are some kronos issues with year end reports not exporting due to size and although it is July, i have not had an resolution from kronos on this issue that arose for year end 2019
Fordeler:
hr and payroll together is great and all the reporting available
Ulemper:
we are currently being switched to a 'new look'. so far, i do not like it and wish that the classic view would stay as an available choice and not be going away
Debra
Accounting Coordinator/Payroll i USA
Engrossalg, 11-50 ansatte
Brukte programvaren til: Mer enn 2 år
Paypro is a pleasure compared to other payroll companies
Fordeler:
We switched to Paypro from another payroll company that was causing us a lot of grief. The payroll process is very smooth with Paypro. There is always someone available to help if I have any issues with processing or any part of the system. Every part of the process is streamlined and very easy to understand. Five star review from me for sure.
Ulemper:
The only con I can think of is some of the reporting. I had some issues in the beginning but the more i used the system - the easier it has gotten.
Eiendomstjenester, 51-200 ansatte
Brukte programvaren til: Mer enn 2 år
Vurderte alternativer:
The Point
Kommentarer: Good
Fordeler:
Relative ease of use and the scan in for employees
Ulemper:
The recent change in setup of menus without informing us !!