Hva er Ideta?
In one click, make your chatbot completely multichannel and deploy it on every touch point such as your landing page, Facebook Messenger, Whatsapp, Slack and even by text messages with our custom Twilio integration. You can add Artificial Intelligence thanks to our easy-to-use no-code interface and you can connect it to multiple NLP providers such as Dialogflow, Luis or Alexa. We made it easy to connect to any software via API and without coding, send customers' information to your CRM and such.
Hvem benytter Ideta?
We serve companies that want to leverage conversational AI without all the usual hassle. The use cases are very varied, from HR to IT and marketing. Imagination is the limit.
Hvor kan Ideta benyttes?
Sky, SaaS, webbasert
Om leverandøren
Ideta
Sted: 75003, Frankrike
Grunnlagt i 2017
Chat
Om leverandøren
Ideta
Sted: 75003, Frankrike
Grunnlagt i 2017
Chat
Videoer og bilder av Ideta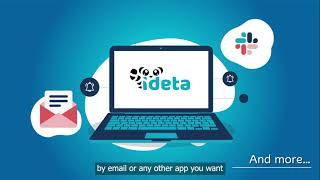 Sammenlign Ideta med lignende produkter
Funksjoner i Ideta
AI/maskinlæring
Autosvar
Chatbot
Flerspråklig
Forbrukervendt chat i sanntid
Geotargeting
Live-chat
Mobiltilgang
Multikanals kommunikasjon
Naturlig språkbehandling
Offline-skjema
Overføringer/ruting
Proaktiv chat
Rapportering/analyse
Samarbeidsverktøy
Sporing av besøkende på nettstedet
Talegjenkjenning
Tilpasset merkevarebygging
Transkripsjoner/chathistorikk
Tredjepartsintegrasjoner
Zachary I.
President i USA
Verifisert LinkedIn-bruker
Datamaskin, programvare, 2-10 ansatte
Brukte programvaren til: Men enn 1 år
I wouldn't run my business without Ideta.
Kommentarer: We are incredibly lucky to have found such a partner. I wouldn't run our business without them.
Fordeler:
Incredibly easy to use. Links and syncs quick, and has had 99% uptime since implementing
Ulemper:
The UI does need tweaking. But after hearing the user feedback they already started making proactive and positive changes
Edison augusto P.
CEO i Colombia
Datamaskin, nettverk, 2-10 ansatte
Brukte programvaren til: 1–5 måneder
Vurderte alternativer:
Great chatbot and easy to use
Kommentarer: The time I've been there has seemed to me an application of a very good level and very advanced functionalities (more than expected). I was positively impressed with everything it brings.
Fordeler:
The application has many interesting features and the possibility of extending its options with dialogflow. I think it's one of the best apps I've ever bought. After you understand the interface well, you can easily implement the chatbots and adapt them to the requirements of my clients.
Ulemper:
the interface is difficult to understand, and the options could be improved depending on where they are placed, as well as the editor, which can be improved compared to other chatbot applications. I hope they improve that part.
Shreyans J.
Founder i India
Detaljhandel, 2-10 ansatte
Brukte programvaren til: 1–5 måneder
Vurderte alternativer:
Creates Chatbot In Minutes
Fordeler:
- Finish Creating your new chatbot in minutes. - Easy integration with major leading platforms.
Ulemper:
- I found some of the Ai had some irrelevant suggestions, that needs to be improved. - The interface is a bit of learning curve. But you'll get use to it later when you start using it.
Jorge T.
CEO & Founder i Mexico
Markedsføring og reklame, 2-10 ansatte
Brukte programvaren til: 1–5 måneder
Vurderte alternativer:
Simple, easy to use chatbot with lot of power
Kommentarer: I had a great experience using Ideta. Although easy to use, is full of features that I havent seen in other chatbots and I believe is really promising. For example the comments automation for Facebook. The more I know the software, the more I enjoy it.
Fordeler:
The capabilities it has for implementing a chatbot on your website. Has sliders with images for your client to chose from, easy to use dialog and store of important data. Also has out of the box validation for email (really important in my opinion) and a "are your still there?" automatic dialog.
Ulemper:
Some out of the box features that I need to work around to cover, like Google Ads integration and some specific entities store in NLP (Dialogflow specifically). Im confident that the development team is covering this sooner than later so Im looking forward to develop new projects with Ideta.
Vinnie R.
Online Marketing i Australia
E-læring, Selvstendig næringsdrivende
Brukte programvaren til: 1–5 måneder
Highly Recommended
Kommentarer: The software works beautifully and it's packed with powerful features such as the possibility of sending images, videos, links, etc in your conversation, which is very handy as a chatbot to automate conversation flow. Its package also offers a very generous number of conversations you can have per tier making it a great opportunity for those who want to use it as a small agency and build chatbots for other business owners. The only downside in my opinion is their thinking behind the conversation flow building. Most software uses that drag-and-drop canvas to build the conversation flow, whereas Ideta's developers have to build a totally different way to do it making it a bit hard to start since you have to adapt yourself to their tool, but once you learn how it works, it super easy. It's just that initial first contact with the tool that can be a bit time and energy-consuming, and I was told that they're looking to improve it to the traditional drag-and-drop in a conversation with the team.
Fordeler:
- A lot of handy features - Very generous package - Best value for money - High-quality customer support -Highly customizable
Ulemper:
They have their own unique way of building a chat conversation that differs from the traditional "drag-and-drop" flow.