Ideta
Hva er Ideta?
In one click, make your chatbot completely multichannel and deploy it on every touch point such as your landing page, Facebook Messenger, Whatsapp, Slack and even by text messages with our custom
Les mer
Twilio integration. You can add Artificial Intelligence thanks to our easy-to-use no-code interface and you can connect it to multiple NLP providers such as Dialogflow, Luis or Alexa. We made it easy to connect to any software via API and without coding, send customers' information to your CRM and such.
Les mindre
Hvem benytter Ideta?
We serve companies that want to leverage conversational AI without all the usual hassle. The use cases are very varied, from HR to IT and marketing. Imagination is the limit.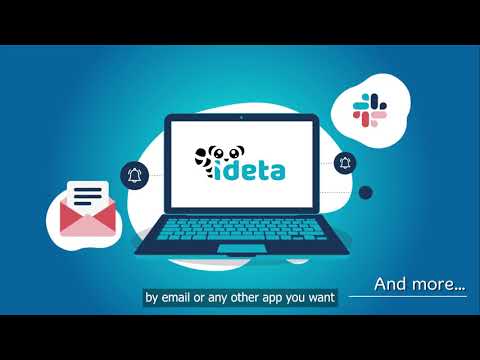 Usikker på Ideta? Sammenlign med et populært alternativ.
Gratisversjon
Gratis prøveperiode
Gratisversjon
Gratis prøveperiode
Natasha
CEO i USA
Verifisert LinkedIn-bruker
Markedsføring og reklame, 2-10 ansatte
Brukte programvaren til: 1–5 måneder
Kilde: GetApp
Vurderte alternativer:
Excellent Value & Service
Kommentarer: Ideta is an extremely powerful chat-bot software that plays a crucial role in the operations of my business. I absolutely love that you can scale this bot to be as simple or complex as you want. In my case, I've been using this to capture leads on websites, and to provide support to existing clients. The AI functionality gives this chat-bot a real edge. While I haven't dived into it too much yet, I'm really happy to have seen use-cases where I can expand on my current bots to improve the experience for my prospective and current clients. I also am very happy with the API integration and functionality, giving me great control over the operations of my bots. The customer support with Ideta is INCREDIBLE – one of the highlights for me, hands down. While there can be a bit of a learning curve to use their system, and there are a few little quirky things about their UI, I feel that they are very committed to the continual improve of this software, and the pros heavily outweigh any minor cons. I couldn't be more pleased with this purchase, and am very impressed with Ideta.
Fordeler:
Ideta is a highly customizable software, from the design of the chat to the ability to connect APIs and use AI to create a bot that is 100% suited to your needs. Ideta is extremely generous in its price compared to the offerings; I feel it's an excellent value. I've had to communicate with customer support, and [SENSITIVE CONTENT] has been absolutely phenomenal! Ideta supplies a tremendous amount of templates to choose from to help jump-start your bot operation. I love that there is even ecommerce functionality built right in. They seem extremely attentive to their roadmap and continuing to improve the software. I'm really looking forward to the release of the mobile app to easily respond to live chats. I'm very pleased!
Ulemper:
There was a bit of a learning curve for me when I transitioned from other chat bots to Ideta. They seem to be working on training materials, but it felt a bit incomplete to me, and I ended up learning how to use the software mostly through their templates and reaching out to support to get some questions answered. As this is a growing software, there can be some glitches from time to time. A notification of these things occurring would be nice (such as an update is being performed to the system, so some glitches may occur and be temporary). There are a few little quirky things with the UI, but nothing to be too picky about.
Edison Augusto
CEO i Colombia
Datamaskin, nettverk, 2-10 ansatte
Brukte programvaren til: 1–5 måneder
Vurderte alternativer:
Great chatbot and easy to use
Kommentarer: The time I've been there has seemed to me an application of a very good level and very advanced functionalities (more than expected). I was positively impressed with everything it brings.
Fordeler:
The application has many interesting features and the possibility of extending its options with dialogflow. I think it's one of the best apps I've ever bought. After you understand the interface well, you can easily implement the chatbots and adapt them to the requirements of my clients.
Ulemper:
the interface is difficult to understand, and the options could be improved depending on where they are placed, as well as the editor, which can be improved compared to other chatbot applications. I hope they improve that part.
Courtlin
Director i Vietnam
Verifisert LinkedIn-bruker
Informasjonsteknologi og -tjenester, Selvstendig næringsdrivende
Brukte programvaren til: 1–5 måneder
Vurderte alternativer:
My favorite chatbot building platform
Kommentarer: This is my go-to chatbot-building platform. I've tried several others but found them cumbersome or tedious to setup. Ideta's templates made it much faster to generate a POC chatbot than other platforms. The cartoons and playful spirit of the site also makes the process of building a chatbot seem like less of a chore :)
Ideta also has a free udemy course to help with onboarding, which is a nice touch.
Fordeler:
The UX/UI is clean, simple and fun to use. Although the platform is filled with cartoons, this is a serious chatbot-building platform that finally makes it easy for beginners to build chatbots. I also found the preloaded chatbot templates covered quite a few of my potential use cases, which made it much easier to get up and running with a chatbot customized for what I needed it to do (e.g. make appointments vs. tech support tickets.)
Ulemper:
The site uses a lot of tooltip pop-ups, at least during the initial onboarding; the constant interruptions are a bit distracting. Having the ability to easily turn these off would be appreciated. The tooltips are useful but sometimes I just want to play around with a tool without being bombarded with pop-up "help".
Zachary
President i USA
Verifisert LinkedIn-bruker
Datamaskin, programvare, 2-10 ansatte
Brukte programvaren til: Men enn 1 år
I wouldn't run my business without Ideta.
Kommentarer: We are incredibly lucky to have found such a partner. I wouldn't run our business without them.
Fordeler:
Incredibly easy to use. Links and syncs quick, and has had 99% uptime since implementing
Ulemper:
The UI does need tweaking. But after hearing the user feedback they already started making proactive and positive changes
Jorge
CEO & Founder i Mexico
Markedsføring og reklame, 2-10 ansatte
Brukte programvaren til: 1–5 måneder
Vurderte alternativer:
Simple, easy to use chatbot with lot of power
Kommentarer: I had a great experience using Ideta. Although easy to use, is full of features that I havent seen in other chatbots and I believe is really promising. For example the comments automation for Facebook. The more I know the software, the more I enjoy it.
Fordeler:
The capabilities it has for implementing a chatbot on your website. Has sliders with images for your client to chose from, easy to use dialog and store of important data. Also has out of the box validation for email (really important in my opinion) and a "are your still there?" automatic dialog.
Ulemper:
Some out of the box features that I need to work around to cover, like Google Ads integration and some specific entities store in NLP (Dialogflow specifically). Im confident that the development team is covering this sooner than later so Im looking forward to develop new projects with Ideta.