Hva er Talkspirit?
Talkspirit is the #1 software for collaboration and team communication. It brings your employees together in a secure online workspace, wherever they are. By centralizing discussions, documents, events and collaborative features in one place, it makes your teams more productive. Available in 8 languages. On any device (PC, mobile, tablet). Easy to use. Free trial. Free version. Paid plans from 4 EUR / month per user. Designated leading software for remote-work and team communication by GetApp.
Hvem benytter Talkspirit?
Companies who need a best-in-class collaboration and communication software for their teams. SMBs, public institutions and associations. From 20 people to 10.000.
Hvor kan Talkspirit benyttes?
Sky, SaaS, webbasert, Mac (desktop), Windows (desktop), Linux (desktop), Android (mobil), iPhone (mobil), iPad (mobil)
Om leverandøren
Talkspirit
Sted: Paris, Frankrike
Grunnlagt i 2008
Telefonstøtte
Døgnet rundt
Chat
Om leverandøren
Talkspirit
Sted: Paris, Frankrike
Grunnlagt i 2008
Telefonstøtte
Døgnet rundt
Chat
Videoer og bilder av Talkspirit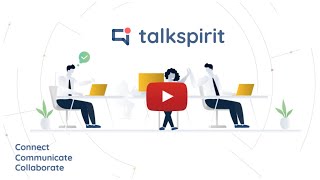 Sammenlign Talkspirit med lignende produkter
Funksjoner i Talkspirit
Adgangskontroller/-tillatelser
Aktivitet-/nyhetsfeed
Aktivitetsdashbord
Ansattbilder
Ansattdatabase
Brainstorming
Diskusjoner/forum
Dokumentlagring
Dokumentledelse
Enkel pålogging
Fildeling
Fjernstøtte
Innholdsstyring
Kalenderbehandling
Kommunikasjonsstyring
Konferanser
Kontaktadministrasjon
Live-chat
Lydsamtaler
Mobiltilgang
Møteledelse
Notatstyring
Oppgavebehandling
Prioritering
Prosjektplanlegging
Rapportering og statistikk
Redigering i sanntid
Rollebaserte tillatelser
SSL-sikkerhet
Samarbeidsverktøy
Sanntidschat
Sikker datalagring
Skjermdeling
Søk/filter
Tidsplanlegging
To-veis lyd og video
Transkripsjoner/chathistorikk
Tredjepartsintegrasjoner
Undersøkelser og tilbakemelding
Varsler i sanntid
Varsler/meldinger
Videochat
Videokonferanse
Alternativer for Talkspirit
Anmeldelser av Talkspirit
Grégory N.
Technical Chief Officer i Frankrike
Verifisert LinkedIn-bruker
Dataspill, 11-50 ansatte
Brukte programvaren til: 1–5 måneder
Vurderte alternativer:
Talkspirit : the perfect tool for teamworking
Fordeler:
Customization options and integrated polls
Ulemper:
They save payment information but they delete them on demand.
Zeeshan W.
system engineer i USA
Verifisert LinkedIn-bruker
Informasjonsteknologi og -tjenester, 10 000+ ansatte
Brukte programvaren til: 6–12 måneder
extraordinary mean to have a good communication.
Kommentarer: This software has allowed the company to make great progress in videoconferences, they are heard with very good quality, its instant messaging offers us a good opportunity to communicate easily and with high integration and to create work groups so that collaboration is more based on each comment or text that we want to add to the platform to share with each user.
Fordeler:
It is one of the best tools that maintains a good user interface that makes it more functional and excellent to use and is also very fast, which makes our experience extraordinary. Sufficient help to ensure that each one can be notified in advance of what is going to be discussed in videoconference through instant messaging and is more fluid, improves communication and reinforces our knowledge for better dissemination and the good is that they can be organized in groups and deal with each specific topic.
Ulemper:
I don't dislike Talkspirit at all as its configuration is really good and we can use it in the way we want, it is clearly easy and fast for notification configurations to be more comfortable. And you don't waste your has because it is exceptional at easily feeding back into its positioning.
Frédérique M.
CEO i Frankrike
Informasjonsteknologi og -tjenester, 2-10 ansatte
Brukte programvaren til: Men enn 1 år
Talkspirit une fluidité de l'information pour un travail collaboratif efficace
Fordeler:
Le Chat nous permet tout au long de la journée d'être connectés les uns aux autres pour faire avancer les projets, sans perte de temps. La vidéo conférence en un clic pour une réunion rapide sans programmer une réunion en dehors de Talkspirit. Et l'intégration avec Trello nous permet de suivre les tâches de chacun. Produit français est un plus.
Ulemper:
Certains documents se visualise mal dans Talkspirit et il est nécessaire de les télécharger
Florentin C.
chargé de communication i Frankrike
Engrossalg, 51-200 ansatte
Brukte programvaren til: Mer enn 2 år
Meilleur logiciel de com interne du marché !
Kommentarer: Talkspirit permet de résoudre les problèmes en interne de notre entreprise et de faciliter la communication entre les salariés, les groupes de travails nous permettent de faciliter les échanges.
Fordeler:
Talkspirit est simple d'utilisation, ses nombreuses fonctionnalités et son ergonomie permet aux utilisateurs, même les plus novices avec l'informatique, de communiquer facilement. De plus, son application mobile est responsive et facile d'utilisation, elle permet de voir les actualités et de suivre ses feeds a n'importe quel moment.
Ulemper:
Je ne trouve pas de défauts à TalkSpirit, j'aime ce logiciel et je le recommande.
Catherine M.
responsable RPE i Frankrike
Personlige tjenester og familietjenester, 51-200 ansatte
Brukte programvaren til: 6–12 måneder
Les apports de Talkspirit
Kommentarer: Les réponses juridiques et administratives sont claires et rapides. L'orientation vers un juriste est adéquate.
Ce logiciel permet de ne pas encombrer la hotline FEPEM pour des questions simples ou en rapport avec une primo information.
Fordeler:
les possibilités de réponses administratives et juridiques . La possibilité d'accéder au Forum et de mutualiser les réponses apportées. Les documents dans le DRIVE qui facilitent l'information
Ulemper:
Pour l'instant, je n'ai pas trouvé de points faibles.