Talkspirit
Hva er Talkspirit?
Talkspirit is the #1 software for collaboration and team communication. It brings your employees together in a secure online workspace, wherever they are. By centralizing discussions, documents,
Les mer
events and collaborative features in one place, it makes your teams more productive. Available in 8 languages. On any device (PC, mobile, tablet). Easy to use. Free trial. Free version. Paid plans from 4 EUR / month per user. Designated leading software for remote-work and team communication by GetApp.
Les mindre
Hvem benytter Talkspirit?
Companies who need a best-in-class collaboration and communication software for their teams. SMBs, public institutions and associations. From 20 people to 10.000.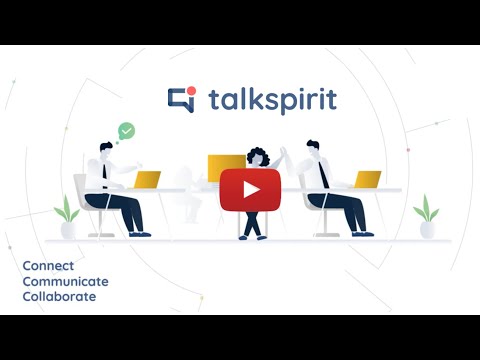 Usikker på Talkspirit? Sammenlign med et populært alternativ.
Gratisversjon
Gratis prøveperiode
Gratisversjon
Gratis prøveperiode
Alternativer for Talkspirit
Anmeldelser av Talkspirit
Nicolas
Président i Frankrike
Datamaskin- og nettverkssikkerhet, 2-10 ansatte
Brukte programvaren til: Men enn 1 år
Vurderte alternativer:
Très bon outils de communication pour entreprise
Kommentarer: C'est un outil que nous avons adopté très rapidement. Il nous apporte de la souplesse d'échanges d'idées, de fichier, permet d'être une vitrine en interne et en plus il nous sert à centraliser des alertes sur certains de nos outils. Donc pour nous, que du positif !
Fordeler:
Nous avons plus particulièrement apprécié la simplicité d'utilisation et le facilité de la prise en main. De plus, en pleine période de confinement, nous avons apprécié l'outil de visio-conférence qui est d'excellente qualité et qui est très fiable et performant. Nous apprécions au quotidien sa présence sur tout support (tablette, ordi, smartphone...) et surtout sa très haute disponibilité. Dernier point important : à peine un plantage en presque 2 années d'utilisation.
Ulemper:
Le calendrier / gestion des évènements qui n'est pas toujours simple à appréhender et ou il est nécessaire de faire plusieurs clics pour revenir en arrière et retrouver certains événements.
Bastien
Community Manager i Frankrike
Verifisert LinkedIn-bruker
Animasjon, 11-50 ansatte
Brukte programvaren til: 6–12 måneder
tool of excellence to organize in the work
Kommentarer: We are very happy with the progress of our projects, and are more productive since the installation of talkspirit by our teams
Fordeler:
We have been using talkspirit for a few months now at "Chartreuse Gaming" and we are very happy with the result on the quality of our work. Morover talkspirit is available on different platforms, be it computer, tablet, phone, all are synchronized and allow to advance on are work any time in any place. We particularly like the conf'call that allow us to work despite the distance of our members and collaborators. We also like polls in positions to brainstorm or quickly agree on one point or another. Notifications are also very convenient to quickly update the progress of a project or other ...
Ulemper:
The only drawbacks may be the application that does not benefit from all the options available on the site talkspirit but I think the update will be soon
Florian
Chef de cabinet i Frankrike
Offentlig administrasjon, 1 001-5 000 ansatte
Brukte programvaren til: Men enn 1 år
Vurderte alternativer:
Mise en place d'un réseau social pour l'inspection des ICPE
Kommentarer: La plateforme Talkspirit nous a permis de créer un espace d'échange entre nos 1500 inspecteurs, afin que ceux-ci puissent partager leurs bonnes pratiques et leurs retours d'expérience sur des cas métiers spécifiques.
Fordeler:
- l'ergonomie et la facilité de prise en main pour nos utilisateurs - la qualité et la réactivité du support technique - le "made in France", y compris pour le stockage des données
Ulemper:
- la mise en place d'une telle plateforme nécessite un accompagnement managérial fort
Boris
Expert-Comptable i Frankrike
Regnskap, 501-1 000 ansatte
Brukte programvaren til: Men enn 1 år
L'élément central de notre organisation
Kommentarer: Nous avons fait de Talkspirit l'outil central de notre organisation répartie sur toute la France. Chaque membre peut y trouver le contenu produit, mais surtout Talkspirit nous aide à créer des échanges et interactions entre nos membres. C'est devenu notre outil central et plus de 90% des membres s'y connecte plus d'une fois par semaine.
Fordeler:
Talkspirit est complet ! Il nous permet de diffuser des informations, d'échanger par le chat ou la Visio et de stocker nos documents partagés. La suite bureautique intégrée facilite la co-construction. La solution est régulièrement améliorée et enrichie de fonctionnalités.
Ulemper:
Il nous manque la possibilité d'intégrer des pages avec du code HTML pour connecter certains sites par SSO. Peut-être une amélioration à venir !
Luc
directeur Innovation i Frankrike
Telekommunikasjon, 10 000+ ansatte
Brukte programvaren til: Mer enn 2 år
better than slack and workplace
Kommentarer: talkSpirit is used to bootstrap "on demand" innovation projects with distant co-workers. It's very easy to connect your daily tools and enjoy a single interface to work from
Fordeler:
- the super easy and intuitive interface, UX: no need for a user manual, - the ability to invite for free as many guests as you want to your common workspace, - a single interface to which you can connect all your external tools (twitter, linked, facebook, rss,..) and internal productivity tools (pipedrive, zendesk, trello, github, chargebee,..), - a multidevice chat + a social network with voice and visio integrated, - high level of security, - European SaaS solution accessible through local datacenter.
Ulemper:
I would like to have more bots available on their store. I tried the FAQ bot and it's quite immediate to put in production. I would like to have the same for a wide array of domains.