Freshsales
Hva er Freshsales?
Freshsales is a full-fledged sales force automation solution for sales teams. It provides everything a salesperson needs to— attract quality leads, engage in contextual conversations, drive deals
Les mer
with AI-powered insights, and nurture customer relationships. With built-in email, phone, chat, and telephony, Freshsales empowers sales teams with more time for selling by automating the sales process and increases efficiency and productivity in their daily activities.
Les mindre
Hvem benytter Freshsales?
With Freshsales, businesses can attract, engage, close, and nurture their leads. You no longer need a CRM and five other tools to run your business, just Freshsales CRM will do.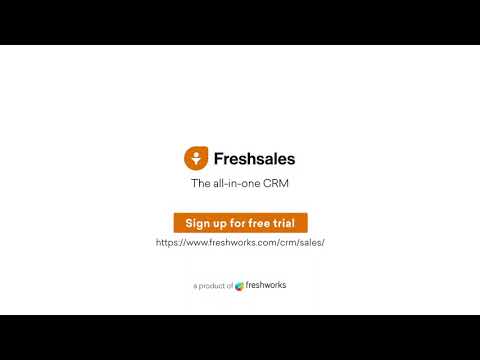 Usikker på Freshsales? Sammenlign med et populært alternativ.
Ikke tilgjengelig i landet ditt
Gratisversjon
Gratis prøveperiode
Gratisversjon
Gratis prøveperiode
Alternativer for Freshsales
Anmeldelser av Freshsales
Jose J
CTO i USA
Verifisert LinkedIn-bruker
Markedsundersøkelser, 2-10 ansatte
Brukte programvaren til: Men enn 1 år
Vurderte alternativer:
Great CRM Platform for Startups and Growing Businesses
Kommentarer: Aside from the onboarding process, we enjoy using Freshsales and believe it's worth it to manage your contacts and leads. Freshsales is a great platform to use with any sales pipeline.
Fordeler:
When I started using Freshsales with my team, we get amazed with the simplicity of the CRM and the flexibility of features and options with each contact. Also, we enjoyed the integration with Freshdesk support and assistance platform.
Ulemper:
The onboarding was a little bit long, it took around 3 days, even though we started with a few contacts by then. I hope they improve the onboarding time or change the methodology to enroll using Freshsales.
Gregor
Marketing Manager i Slovenia
Maskineri, 11-50 ansatte
Brukte programvaren til: Mer enn 2 år
Vurderte alternativer:
Freshsales suite fulfills our needs
Kommentarer: Overall experience is good. Now that we are on an enterprise plan, support is good. When we were not enterprise client, the support was often slow.
Fordeler:
This product offers a lot of features and does offer a multi-touchpoint approach. Email journeys, Whatsapp integration, Chatbots, SMS...
Ulemper:
I miss if/than functionality in workflows. That would greatly reduce the manual work when setting up the workflows and adding new conditions. Another thing that I do not like is the policy and the pricing related to the marketing contacts. All plans have the limitation of 1000 marketing emails per month. This can be quickly exceeded especially if you are sending newsletters to your contacts. There is an option to upgrade, but that is way too expensive and completely unscalable when a business grows. We have overcome that with integrating CRM with SMTP service that takes over this part and is calculated on the number of emails sent.
Adam
Business Development Manager i Storbritannia
Datamaskin, maskinvare, 11-50 ansatte
Brukte programvaren til: Mer enn 2 år
Missing things rivals do well
Kommentarer: Not great. Customer service is excellent, though!
Things I think should be basic (or I used in Pipedrive) just don't exist or don't work in Freshsales.
Fordeler:
What it has is pretty easy to use, and finally with the addition of timeline view, getting different views is good. Creating reports is not easy, although very powerful.
Ulemper:
Mail integration is pointless for me. If set to 'auto', all emails from a client appear on all of their deals, rather than having intelligent algorithms that are deal-specific. Also, no search function on email page immediately makes have email sync pointless for me. Sync is slow. I can add a deal, or a contact, but often won't appear in searches for a long time, so I can't start linking emails or creating new deals.
Nicholas
Managing Partner i Spania
Personaltjenester (HR), 2-10 ansatte
Brukte programvaren til: Men enn 1 år
Vurderte alternativer:
Freshsales review by Nick Chambers
Kommentarer: Managing email campgins in a personalised and professional way. Keeping track of and updating changes in circumstances to our correspondents in real time. Filtering contacts according to specific criteria.
Fordeler:
The customer support - without it we could not have implemented and continue to find new ways of applying it to manage our relationships and grow our business
Ulemper:
That you cannot create a list of contacts to email straight from your inbox. We often need to send semi standardises responses to several contacts awaiting a reply. At the moment it is not possibe to select and set them up for a bulk email. This would save us a lot of time if you created this very simple feature.
Lindsey
Director of Business Development i USA
Helse, velvære og trening, 2-10 ansatte
Brukte programvaren til: 1–5 måneder
Vurderte alternativer:
Best CRM for our small business
Kommentarer: We've been very pleased overall, it has streamlined out business development processes, customer support is fantastic
Fordeler:
The web based piece is so important, it's customizable, ease of use for new employees, crosses over for sales, marketing and recruiting
Ulemper:
Search function, would like to search keyword