Hva er Orderry?
Orderry er en SaaS-løsning utformet spesielt for servicebedrifter og verksteder. Den hjelper deg å automatisere vanlige operasjoner, for eksempel behandling av jobber og reparasjoner, salg, CRM, lagerstyring, ressurssporing, økonomi, lønning og analyse. Du kan behandle jobber både i butikk og på stedet. I Work Orders-appen kan feltteknikere behandle og lukke arbeidsordrer, legge til bilder og kommentarer samt motta betalinger på farten. I Business Insights-appen kan ledere spore KPI-er og holde oversikt over ansatte.
Hvem benytter Orderry?
Orderry er utviklet for å dekke behovene til verksteder for datamaskiner og småelektronikk, servicesentre for mobiltelefoner, verksteder for husholdningsapparater og biler, felttjenester, elektroentreprenører og mer.
Hvor kan Orderry benyttes?
Skybasert
Lokalt
---
Om leverandøren
Orderry
Sted: London, Storbritannia
Grunnlagt i 2014
Språk
engelsk, polsk, spansk
Priser for Orderry
Utgangspris:
USD 39,00/måned
Ja, har gratis prøveperiode
Ingen gratisversjon
Orderry har ikke gratisversjon, men tilbyr en gratis prøveperiode. Du får en betalt versjon av Orderry fra USD 39,00/måned.
Om leverandøren
Orderry
Sted: London, Storbritannia
Grunnlagt i 2014
Språk
engelsk, polsk, spansk
Videoer og bilder av Orderry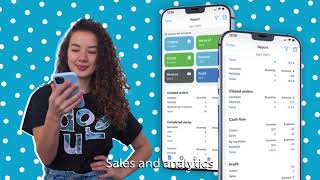 Funksjoner i Orderry
Administrasjon av salgsmuligheter
Aktivitetsdashbord
Ansattplanlegging
Arbeidsordrehåndtering
Arbeidsordreopprettelse
Avtaleplanlegging
Avtalestyring
Betalingsinnsamling i felten
CRM-modul
Dataimport/-eksport
Delestyring
Dokumentlagring
Dokumentledelse
E-postadministrasjon
Eiendelssporing
Estimering
Fakturering og regningsskriving
For gullsmedbutikker
Forebyggende vedlikehold
Inntaksledelse
Interaksjonssporing
Inventarstyring
Jobbadministrasjon
Kalender-/påminnelsessystem
Kampanjestyring
Kjøretøysporing
Kontaktadministrasjon
Kontaktdatabaser
Kostnadssporing
Kundedatabase
Kundehåndtering
Kvalifisering av salgsmuligheter
Lojalitetsprogram
Mobilapp
Mobiltilgang
Multiplassering
Nettbasert distribusjon
Oppgavebehandling
Personaladministrasjon
Prishåndtering
Pristilbud/estimater
Rabattstyring
Rapportering og statistikk
Rapportering/analyse
Regnskap
Regnskapsintegrasjon
Reparasjonssaker
Reparasjonssporing
Returstyring
Salgsordrer
Salgsrapporter
Salgssted (POS)
Segmentering
Servicehistorikk
Sporing av utstyr
Strekkode-/billettskanning
Strekkode-/etiketthåndtering
Styring av arbeidsflyt
Teknikerstyring
Tidsplanlegging
Tredjepartsintegrasjoner
Varsler/meldinger
Vedlikeholdsplanlegging
John
CEO i USA
Verifisert LinkedIn-bruker
Telekommunikasjon, 2–10 ansatte
Brukte programvaren til: 6–12 måneder
Anmelderkilde
Awesomesauce
Fordeler:
Just love it. Tried many others and this is the easiest and most extenisible.
Ulemper:
Can't really think of anything! We love it.
Forbrukertjenester, Selvstendig næringsdrivende
Brukte programvaren til: 6–12 måneder
Anmelderkilde
Great CRM software
Kommentarer: Very happy with the service and recently integrated phone call logging from a third party service.
Fordeler:
Love how it's tailored to Phone Repair shop. Easy to set up and very competitively priced. Online chat has been a massive help when I've needed it.
Ulemper:
There were a few tasks I would have liked to edit, but have got used to the setup - it doesn't bother me
Forbrukertjenester, 2–10 ansatte
Brukte programvaren til: Men enn 1 år
Anmelderkilde
Convenient product that solves basic everyday tasks
Kommentarer: Our repair department use that software to manage local parts storage, customer and ticket information, amount of job done by tech.
Fordeler:
Almost all daily tasks are automated and do not require the participation of a manager.
Ulemper:
Still need to improve the possibility for local software integration. We use that product in Finland, cant accept its reports without full reworking. Have no integration with cardpayment terminal, with accounting software. No full integration with WooCommerce ... even stop to wait it.
Svar fra Orderry
for 2 år siden
Dmitry, thank you for choosing Orderry and submitting such an informative review! We are happy to know that Orderry helps your team be more productive every day. Speaking of integrations missing, here are some comments from our product development team: Card payment terminals are our main focus for the coming versions. We are currently working on the API with webhooks and the integration with any marketplace/online store that can synchronize via xls import. To integrate with international accounting services, we've already released the tax functionality within the coming updates, we will be able to complete this integration. So, stay tuned ;-) The full database search option is now listed in our roadmap as a feature request.
Bilindustri, Selvstendig næringsdrivende
Brukte programvaren til: 1–5 måneder
Anmelderkilde
Great, easy to use CRM software
Kommentarer: Overall very pleased with software so far.
Fordeler:
I like that it is cloud based and works on all of my devices including iphone and ipad. It is very easy to add photos and create customer invoices.
Ulemper:
The ability for customers to check the status of their work via embedded code on my website seems broken.
Vurderte alternativer: Lightspeed Retail
Grunner til å bytte til Orderry: I have used Lightspeed in the past and is a great product but is extremely expensive.
Svar fra Orderry
for 2 år siden
Thank you for your review, Shane J.! We are happy to know that you are pleased with our product. To resolve your issue with the statuses, provide us please with more details write our support team in the pop-up chat window in your Orderry account or send an email to [email protected]
German
Watchmaker i Storbritannia
Luksusvarer og smykker, 2–10 ansatte
Brukte programvaren til: 6–12 måneder
Anmelderkilde
Orderry is a good all-rounder for managing incoming orders
Kommentarer: The app is great for keeping track of orders and what the progress is with them, but lacks POS integration which means we have to use other methods to track sales.
Fordeler:
The app allows you to create orders and attach photos, comments and prices. The status can be changed and automatically notifies the client when the product is marked as 'done', which saves a lot of time. The cloud access means it can be used on any device anywhere, which is really handy. The app has lots of useful features too like saving clients and work/service types, as well as printing nice-looking invoices that use the prices and include comments on works/services.
Ulemper:
The Orderry camera app is clunky and photos are selected individually, it also needs to be closed and reopened to log in and then it works. A filter for orders with [no files/only photos/any files] attached would also be very useful. We also couldn't integrate it with our POS system meaning that we do sales separately from work orders. Since we copy the serial number from the unit we receive for service, sometimes there is no number and sometimes they can match and that gives an error. There should be an option somewhere to make them non-unique.
Svar fra Orderry
for 2 år siden
Thank you very much for your review, German! We do appreciate your feedback on your experience with Orderry. Here is some information we would like to provide you with regarding your remarks: Lack of POS integration: we are working on our own POS as well as an API with webhooks. Orderry Camera is the new app that we are updating constantly adding features and fixing bugs. Update your app to the latest version, please. If issues remain, contact our support team. A filter for orders with [no files/only photos/any files] attached this is now listed in our roadmap as a feature request. Unique serial numbers are needed to identify devices. For some devices such as phones, laptops, etc. we have third-party integrations associated with the serial number field. But there is a new feature added recently that can solve this issue you can generate a serial number yourself for an asset right in your Orderry account. Then, print and label assets if needed.