Hva er BigCommerce?
BigCommerce (Nasdaq: BIGC) is a leading software-as-a-service (SaaS) ecommerce platform that empowers merchants of all sizes to build, innovate and grow their businesses online. As a leading open SaaS solution, BigCommerce provides merchants enterprise-grade functionality, customization and performance with simplicity and ease-of-use. Tens of thousands of companies across 150 countries and numerous industries use BigCommerce, including Ben & Jerry's, S.C. Johnson, Skullcandy, Sony and Vodafone.
Hvem benytter BigCommerce?
Designed for retail businesses of all sizes, it is a cloud-based tool that lets businesses create eCommerce websites using customizable theme/templates & manage sales through centralized dashboards.
Hvor kan BigCommerce benyttes?
Skybasert
Lokalt
---
Om leverandøren
BigCommerce
Sted: austin, USA
Grunnlagt i 2009
Support for BigCommerce
Telefonstøtte
Døgnet rundt
Chat
Om leverandøren
BigCommerce
Sted: austin, USA
Grunnlagt i 2009
Support for BigCommerce
Telefonstøtte
Døgnet rundt
Chat
Videoer og bilder av BigCommerce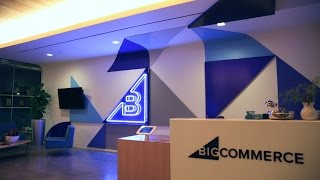 Sammenlign BigCommerce med lignende produkter
Funksjoner i BigCommerce
API
Aktivitetsdashbord
Alternativer for innholdspublisering
Betalingsalternativer
CRM-modul
Dataimport/-eksport
Datasikkerhet
Designledelse
E-handelsstyring
E-postmarkedsføring
Elektroniske betalinger
For B2B
For små bedrifter
Forhåndsbygde maler
Forhåndsvisning av funksjonalitet
Forsendelseshåndtering
Frakoblet i for- og bakende
Gjenbestilling
Handlekurv
Innholdsstyring
Inventarkontroll
Inventaroptimalisering
Inventarstyring
Kampanjestyring
Kanalstyring
Katalogisering/kategorisering
Kundehåndtering
Kundekontaktpunkter
Kundekonto
Lagring av avbrutt kjøp
Malledelse
Markedsplassintegrasjon
Mobiltilgang
Multi-valuta
Multikanals styring
Nettbutikkbygger
Nettstedsadministrasjon
Ordrehåndtering
Publiseringsalternativer
Rabattstyring
Rapportering og statistikk
Rapportering/analyse
Redigering i sanntid
SEO-administrasjon
SSL-sikkerhet
Skatteforvaltning
Tredjepartsintegrasjoner
Alternativer for BigCommerce
Anmeldelser av BigCommerce
Nathan
Marketing Manager i USA
Verifisert LinkedIn-bruker
Sportsutstyr, 11-50 ansatte
Brukte programvaren til: Men enn 1 år
Vurderte alternativer:
Among the best ecommerce solutions for growing businesses
Kommentarer: We initially transitioned from Lightspeed eCom over to Bigcommerce because their platform offered greater scalability and entry-level features than what Lightspeed offered. Because we use Lightspeed POS, however, integrating product data between the systems was a challenge and a lengthy process. It also takes some effort to maintain the connection (via a third-party service using their API).
Fordeler:
Bigcommerce offers some of the most inclusive features in their entry-level product options, making them excellent for small businesses. Their level of customer support and transparency about service issues and new features in development are excellent and perhaps one of the main reasons why we've kept using Bigcommerce instead of switching to a platform that meets other essential features that we are still awaiting from Bigcommerce. The availability of third-party apps (including shipping and logistics integrations) has been great to work with so far.
Ulemper:
Storefront development is currently very lackluster and it can be difficult to get a truly customized website without hiring a developer or investing in web development skills of your own. This is also true of their e-mail features. If you don't have more than a basic understanding of HTML, it will be next to impossible to customize their system e-mails without a third-party solution. Also, while their entry-level features are among the most plentiful in the industry, a few features (such as Google Reviews integrations and Abandoned Cart Recovery) are reserved only for higher-tier plans, which doesn't make sense from a financial standpoint as their costs to support these features should be minimal.
Fatoumata
Marketing communication 3D Graphics Digital marketing Digital vidéo Web design i Guinea
Internett, 11-50 ansatte
Brukte programvaren til: Mer enn 2 år
The best for e-commerce
Kommentarer: BigCommerce is a very good software of creation of electronic store
Fordeler:
I created my online store to make even more sales on the internet with this good BigCommerce software. I add my products on my store and the transactions are good
Ulemper:
The payment is secure and fast. Basically everything is perfect, so no worries for the moment
Max
Director of Systems Operations i USA
E-læring, 51-200 ansatte
Brukte programvaren til: Mer enn 2 år
Terrific admin UI and purchaser experience - BigCommerce will not fix bugs customers find
Kommentarer: The software has been solid for our customers and the administration UI is very easy to use. We have outstanding technical issues that have been open for more than a year and are still not resolved (HTTP status 500 errors that intermittently are returned from their backend APIs) - they say they cannot see the errors in their backend logs and we must send them examples even though we have this happen 10-12 times a day, continually, for over a year. Their Stripe integration does not include the email address field when they send payment requests to Stripe, so customers do not get a credit card receipt from Stripe. Requesting this be changed resulted in them telling us only 1 other customer wanted this feature and that we should switch to Authorize or Brain Tree because it works with those processors) - this felt like a move to downplay the use of Stripe and push us towards vendors that BigCommerce perhaps prefers? It is hard to believe we are the only customer that would want Stripe to send CC receipts to customers - their built-in receipt mechanism does not allow a store to include the last 4 digits of the credit card in the receipt the store sends, which means customers have to call in to customer support when they are organizational customers to figure out which CC is used - a very poor experience for our customers and for our customer support team.
Fordeler:
It is highly customizable, has most of the features you'd expect in an e-commerce solution, and the APIs are well-documented.
Ulemper:
* Seemingly easy solutions to known issues get stuck in their support bureaucracy and disappear * Their logging does not allow software engineers nor CSRs to see the specifics of errors - customers must provide client-side stack traces to help them find errors on their backend (for example, API calls that return HTTP status 500)
Forbrukervarer, 2-10 ansatte
Brukte programvaren til: Mer enn 2 år
Vurderte alternativer:
Great for rapid growth
Kommentarer: Postive. I have been using it for 6+ years already and do not see any reason to leave. it has grown with me over the years.
Fordeler:
Bigcommerce is easy to implement and one of the most versatile ecommerce/inventory/web store/website builder/order management platforms on the market. They are built for you to grow and will work for a startup or for a enterprise.
Ulemper:
I dont like the way they announce new features. Sometimes the degrade a feature but the only way to find out is to attend a "town hall" instead they should just email all users a list of features that are being updated or degraded.
Shreyank
Sales Team Member i Canada
Verifisert LinkedIn-bruker
Regnskap, 11-50 ansatte
Brukte programvaren til: Men enn 1 år
Great software for ambitious sellers who want to sell on multiple platforms
Kommentarer: Overall experience was pretty good but since some of our users find it hard to understand some features and due to the lack of quick fixes in the software we have decided to migrate to the other saas platform. We used bigcommerce for up to 2 years for e-commerce purposes to sell across different countries.
Fordeler:
The most likable thing about this software is there are no platform fees associated unlike other platforms like Shopify. Also, they have some great free features and smooth integration techniques with other platforms allowing the sellers to sell in the different markets without much of a hassle
Ulemper:
The setup is not so easy and quick compared to other saas platforms. It's hard to locate and understand some features unless you have used them before which makes it not reachable for quick fix commerce, it needs some time and patience to fix the issues