Hva er Trello?
From sales and marketing to HR and operations, teams can design and customize Trello to fit their unique needs and work styles. And with over 100+ integrations with other key tools like Google Drive, Slack, Jira and more, Trello is a living, breathing project hub of cross-team collaboration no matter where your work needs to happen. Trello brings joy to teamwork by making it transparent and easily shareable across boards and teams.
Hvem benytter Trello?
Trello is for teams of all sizes, for the creators and doers, and for those who take dreams to done. Trusted by millions, Trello powers teams all around the world.
Hvor kan Trello benyttes?
Skybasert
Lokalt
---
Om leverandøren
Atlassian
Sted: San Francisco, USA
Grunnlagt i 2013
Om leverandøren
Atlassian
Sted: San Francisco, USA
Grunnlagt i 2013
Videoer og bilder av Trello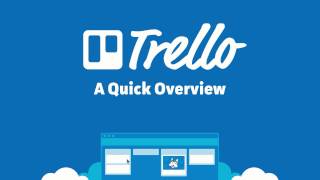 Sammenlign Trello med lignende produkter
Funksjoner i Trello
Adgangskontroller/-tillatelser
Aktivitet-/nyhetsfeed
Aktivitetsdashbord
Aktivitetssporing
Arbeidsflytkonfigurasjon
Automatisering av forretningsprosesser
Avstemninger/stemmegivning
Backlog-styring
Brainstorming
Budsjettstyring
CRM-modul
Dashbord
Dataimport/-eksport
Diskusjoner/forum
Dokumentlagring
Dra og slipp
E-post-til-oppgave-konvertering
E-postadministrasjon
Ekstern tilgang/kontroll
Elektroniske skjemaer
Fakturering og regningsskriving
Ferdighetssporing
Fildeling
Fjernstøtte
For kreative byråer
For små bedrifter
Forhandlerstyring
Fremdriftssporing
Fremgangssporing
Gantt-/tidslinjevisning
Gjentakende oppgaver
Gjestetilgang
Grafisk arbeidsflytredigerer
Idéstyring
Importoppgaver
Ingen kode
Innholdsstyring
Innovasjonsstyring
Inventarstyring
KPI-overvåking
Kalenderbehandling
Kampanjeplanlegging
Kampanjestyring
Kanalstyring
Kanban-kort
Klientportal
Kommentarer/notater
Kommunikasjonsstyring
Konfigurerbar arbeidsflyt
Kravstyring
Kunnskapsstyring
Live-chat
Malledelse
Markedsføringsautomatisering
Markedsføringskalender
Medieplanlegging
Meldinger
Merking
Milepælsporing
Mobiltilgang
Multi-kampanje
Målinnstilling/sporing
Målstyring
Møteledelse
Nettbasert distribusjon
Notatstyring
Oppdragsstyring
Oppgavebehandling
Oppgavefremdriftssporing
Oppgaveplanlegging
Oppgaveredigering/-oppdatering
Oppgavetagging
Opplæringsledelse
Opprett deloppgaver
Ordrehåndtering
Ordresporing
Personaladministrasjon
Porteføljeforvaltning
Prioritering
Produktdatabehandling
Produktveikart
Prosessmodellering og design
Prosjektplanlegging
Prosjektsporing
Prosjektstyring
Rapportering og statistikk
Rapportering/analyse
Rapportering/prosjektsporing
Redigering i sanntid
Regelbasert arbeidsflyt
Ressursforespørsel
Ressurshåndtering
Ressursplanlegging
Risikostyring
SSL-sikkerhet
Samarbeidsverktøy
Sanntidschat
Sikker datalagring
Skjemaautomatisering
Sporing av kostnad-til-fullføring
Sprintplanlegging
Statussporing
Strategisk planlegging
Styring av arbeidsflyt
Styring av orienteringsarbeidsflyt
Styring av produktlivssyklus
Styring av visuell arbeidsflyt
Søk/filter
Tids- og utgiftssporing
Tidsplanlegging
Tidssporing
Tilpassede maler
Tilpasset dashbord
Tredjepartsintegrasjoner
Undersøkelser og tilbakemelding
Varsler i sanntid
Varsler/meldinger
Veikartlegging
Visualisering
Ytelsesstatistikk
Astrid
Senior IT Recruiter i El Salvador
Verifisert LinkedIn-bruker
Outsourcing/offshore, 201-500 ansatte
Brukte programvaren til: 6–12 måneder
Vurderte alternativer:
Remote Project Management? Trello is your tool!
Kommentarer: "Chef Kiss! 5 stars, would totally use it again"
I know it's super cliche but is true, I love Trello and after working with sooooo many project management tools Trello is among my Top 3, and whenever a new client tells me "Let me add you to our Trello Board" I cry put of joy because I know I am gonna have the information and support I need just a click away.
Fordeler:
Honestly, there are so many things to like about Trello, how user-friendly it is, you can literally teach anyone how to use Trello in less than 20 minutes. Super easy for people who are starting doing project management, visually a blast and you are able to have full visibility of stages and day-to-day tasks. Managing backlog is super easy and you are able to truly focus on what is important and not feel like you leaving anything out.
Ulemper:
If you are looking for a more confidential set type of tool maybe Trello is not your thing. Some of the projects I manage need some part to be public and others to be more on the low and since Trello is more focus on open collaboration I find myself needing to share classified files outside the tool which can complicate and confuse my peers, but honestly is more of the project itself than the tool.
Ahmad Farhad
Cheif Marketing Officer i USA
Bedriftsrådgivning, 11-50 ansatte
Brukte programvaren til: Men enn 1 år
Vurderte alternativer:
Bring Discipline into your Business!
Kommentarer: I love Trello, it's an amazing product. I can use Trello for my personal goals and business goals with great and nice tasks management. This product has been helping my for 2 years to plan and execute my goals. Thank you for this wonderful product!
Fordeler:
Trello has a great user interface and is useful for project management. I easy can plan several projects, pin tasks, track the progress of work, manage the team's work, and meet my deadlines in a very easy way.
Ulemper:
I don't feel like missing any feature or tool while using Trello, but I love to see new features in Trello soon.
Trindiad de Jesus
ceo i Mexico
Utskrift, 2-10 ansatte
Brukte programvaren til: Gratis prøveperiode
The worst to organize projects
Kommentarer: It was not a good experience at all, it cost us a lot to use it and above all to make it work efficiently, in the end we decided to leave it.
Fordeler:
I can't say many positive things, the truth is that although the application fulfills enough of what was promised in everything it falls short.
Ulemper:
Problems of all kinds from alerts to the lack of update of tasks, we used the tool to organize our projects a bit but it was counterproductive, it was not updated on time so the tasks did not appear done, did not sound or send the alerts. We lost on several occasions the projects that we already had organized. It was a total fiasco but hopefully they will correct it over time.
Dylan
Operations Manager i Australia
Verifisert LinkedIn-bruker
Utskrift, 11-50 ansatte
Brukte programvaren til: Mer enn 2 år
The only task management tool that has ever stuck with our team
Kommentarer: We have been happily using Trello for years. We use the free version (with occasional upgrades) and it's powerful enough to do exactly what we want. Without Trello I think we would get far less done!
Fordeler:
We have a remotely dispersed team, and users at all levels of familiarity/interest in software tools. Trello is the only tool that has ever stuck and that our users have continued to use without constant prodding. It's simple enough to look like a structured wall of post-it notes for users who want that, but has enough granular controls that other users can label/colour-code/due-date to their heart's content. The UI is very well structured and both sets of users can happily co-exist. It also allows easy colloboration with our external development team.
Ulemper:
Sometimes I feel during busy periods that I lose track of individual updates (due to the sheer volume). I end up having to go board by board and card by card to ensure I don't miss something. Having a better system to watch certain cards/lists would help filter this.
Matteo
COO i Italia
Verifisert LinkedIn-bruker
Maskineri, 201-500 ansatte
Brukte programvaren til: Mer enn 2 år
Vurderte alternativer:
Strumento ideale per l'overview dei progetti
Kommentarer: L'uso di Trello ha diffuso la condivisione dello stato di avanzamento dei progetti all'interno dell'organizzazione e ridotto il flusso di email interne.
Fordeler:
L'uso di Trello ha consentito la creazione di bacheche virtuali per tracciare lo stato di avanzamento di diversi processi aziendali interfunzionali. Apprezzo molto l'interfaccia accattivante e immediata, la facilità di condivisione con i colleghi, la possibilità di ricevere utili notifiche via email quando un collega aggiorna un progetto di mio interesse, la possibilità di allegare documenti e immagini e di settare scadenze.
Ulemper:
Pochi i nei, forse si sente la mancanza di un editor (grassetto, corsivo, punti elenco…) più user friendly, visto che al momento è possibile editare il testo solo ricorrendo a markup che bisogna ricordare a memoria, per esempio, per scrivere in grassetto una "parola" devo ricordarmi di scrivere **parola**